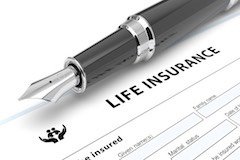 Life Insurance
The aim of life insurance cover is to provide money for people who financially depend on you. Whilst we hope to live a long healthy life, it may be prudent to plan for the worst.
If there is no one who will be financially distressed by your death, life assurance is probably not essential, though there are other reasons why it would be useful.
One simple question: "if you were in a fatal traffic accident tomorrow, would anyone else be left in the financial mire?"
If the answer is "yes", then we should discuss your insurance needs, in order to ensure that you and your dependents' needs are properly catered for.
There are lots of different types of insurance available and it can be confusing. Our advisers will explain the difference between life insurance and assurance plus any other options that might be in your best interests